This event has passed.
Two Sevens Clash
Lost Weekend
Category
Book Now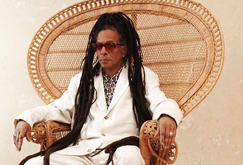 Two Sevens Clash
*A note on transaction fees
Card bookings will incur £1.50 administration charge, there is no charge for cash sales at the Box Office.
Lost in Film
Two Sevens Clash
UK, 2017, 50 min
Directed, filmed and narrated by Don Letts this archive-based documentary looks at the myth and the reality of the 'punky-reggae party'. Using unseen footage shot on Super-8mm 40 years ago, the film features The Sex Pistols, The Clash, Culture, The Slits, Linton Kwesi Johnson and many more.
Followed By Q&A With Don Letts
Don Letts is a British film director and musician. His film, The Punk Rock Movie, documents the original UK punk rock movement. Letts is credited with introducing dub and reggae to the London punk scene, which was to influence The Clash and other bands.
Venue: Studio 74, Exeter Phoenix