This event has passed.
The Ruf Records Blues Caravan
Category
Book Now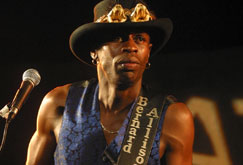 The Ruf Records Blues Caravan
*Subject to a £1 ticketing system charge. We don't charge this to make a profit. Find out more >>
The Ruf Records Blues Caravan
Bernard Allison | Vanja Sky | Mike Zito
This is no ordinary club tour. This is the Blues Caravan 2018. If you've followed Ruf's rolling revue since it started life in 2005, you'll already know that these shows are must-see events, throwing together three stellar artists on one bill – then letting the chemistry do the rest.
Traditionally, the Blues Caravan lineup has showcased the label's breaking talent – from Aynsley Lister to Samantha Fish – and given fans a chance to catch the blues titans of tomorrow before they go 'boom'. But in 2018, it's time to mix things up. On this year's Blues Caravan, you'll not only find one young gun with a dazzling career ahead of her, but also two heavyweights with a sky-high reputation. Let's welcome them to the stage…
Ruf's tireless dedication to the blues means it hunts far beyond the US and UK for its new signings – and the label has struck gold with Croatian gunslinger Vanja Sky. Channelling the fire and flair of Rory Gallagher, Albert King and Stevie Ray Vaughan, this 23-year-old hot-tip has already broken out in her home country and bordering Balkan States. Now, with her highly anticipated debut studio album due for release in January 2018, Vanja is planting her flag in Europe and North America as the junior partner on the Blues Caravan.
Some surnames command instant respect on the blues scene. As the son of the mighty Luther Allison – the late Chicago blues titan who was Ruf's first signing back in 1994 – Bernard Allison has added to the family legend and carved out his own mythology as a world-class songwriter and performer. For this year's Blues Caravan, he'll be drawing on an acclaimed back catalogue that includes 1997's US debut Keepin' The Blues Alive and 2000's classic Born With The Blues, and slipping between genres as only a master can.
If you're remotely serious about modern blues, you'll have followed the twists and turns of Mike Zito's fascinating career. The Missouri-born bandleader overcame his crippling early addictions to become one of modern America's sharpest songwriters, and few artists have written with such stark eloquence as he did on 2011's Greyhound album. In 2012, Mike threw us a curveball, lining up alongside Devon Allman and Cyril Neville as a key member of Royal Southern Brotherhood – and went on to stay with the supergroup for two critically feted albums.



VENUE: EXETER PHOENIX