This event has passed.
Suffragette (12A)
Thu 01 Jan 1970 - Thu 01 Jan 1970
Category
Book Now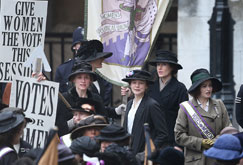 Suffragette (12A)
*Please note that there is a £1.50 fee per transaction
Suffragette (12A)
UK, 2015, 106 mins. Dir. Sarah Gavron
First feature film to tell the story of the ordinary British women at the turn of the last century who risked everything in the fight for the right to vote.
Carey Mulligan heads an all-star cast – including Meryl Streep, Helena Bonham Carter, Brendan Gleeson, and Anne-Marie Duff – as Maud, a working-class housewife who defies her husband (Ben Whishaw) and risks losing her children by taking part in the increasingly high-stakes struggle for the women's vote.
This intense and gritty drama tracks the heart-breaking and inspirational story of the early feminist movement as women fought for the right to vote. Women who were forced underground, radicalised and willing to lose everything in their fight for dignity and, most importantly, equality.
Showing Times:
Mon 30 Nov: 7.30pm
Thu 3 Dec: 7.30pm

VENUE: STUDIO 74