This event has passed.
Spork!
The Valentine(ish) Edition
Category
Book Now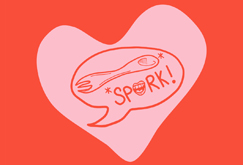 Spork!
*Subject to a £1.50 ticketing system charge. We don't charge this to make a profit. Find out more >>
SPORK! THE VALENTINE(ISH) EDITION
Join us nearish to Valentines Day for a special edition of Spork! A night of spoken-word, poetry, comedy & rap, all about love (whether we like it or not.) Featuring 3 fantastic artists: Roisin Crowley Linton, Roisin's Brother, Obadiah + support from DJ Lexia Majora & some local spoken-word legends.
---
ROISIN CROWLEY LINTON
Roisin is a poet, comedian and general gobsh*te from Newcastle with two critically acclaimed Edinburgh shows and some shiny five star reviews under her belt (Be More, Do Better But Don't Change – 2018 & Teenage Kicks – 2019)

'Crowley Linton says all the things our dark little hearts whisper to us at 4am after too much gin. And in saying them aloud, she sucks all the power out of them, allowing us laugh at our fears and leave feeling a little less lonely.'
ED FEST MAG
ROISIN'S BROTHER
Roisin's Brother (no relation) is an up and coming stand-up poet based in Plymouth. Enigmatic, mysterious and really very weird. Expect the unexpected. And blood. Expect blood.
OBADIAH
Obadiah is a rapper and hip-hop artist based in the South West; one who weaves lyrical wordplay and real-life stories into his music. He's released a number of albums including his latest, Baptism Beneath Monsoon.
Plus support from some Spork! regulars and music from our in-house DJ for the evening, Lexia Majora
---
Running time: 90 mins (including an interval)
Venue: Exeter Phoenix