Sheesham and Lotus and 'Son
Category
Book Now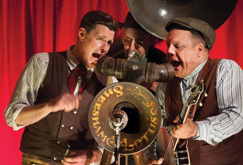 Sheesham and Lotus and 'Son
*A note on transaction fees
A small £1.50 fee is added to each transaction. This covers the cost of getting your tickets booked, that's everything from the booking software to card charges. We don't charge this to make a profit.
Sheesham and Lotus and 'Son
Famously referred to as 'Mississippi Sheiks meet Doctor Seuss as curated by HG Wells' Sheesham and Lotus and 'Son have created a sonic and visual presentation of old time high stepping music which is completely unique. Fiddle, Banjo and Sousaphone make up the core of this outfit, complimented by Contrabass-Harmoniphonium, Harmonicas, and Jaw Harps, Bones and BuckDance, with great sibling harmonies.
The show has it's roots in the Vaudeville and Juke Joints of the American South, where Mississippi Riverfolk meet the Appalachian Highlanders; the blues meet he fiddle tunes with a rollicking and full flamed conviviality one might consider outrageous!
Sheesham and Lotus and 'Son have established themselves as an act that has it all, combining astounding musicianship and fearless grooves with a show that is dynamic and entertaining.
Venue: Exeter Phoenix