This event has passed.
Running The Planet
Category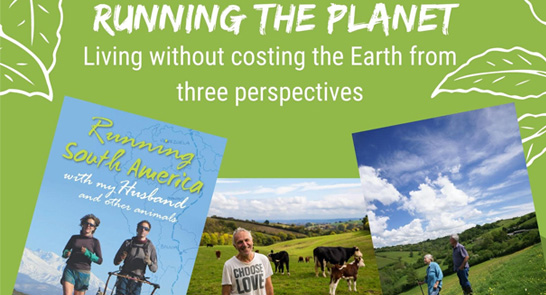 Running The Planet
Running The Planet
Living without costing the Earth from three perspectives. A journey from South America to your own Carbon Footprint.
---
To book tickets, go to https://www.westtownfarm.co.uk/events/running-the-planet
Tickets are £5 and proceeds will go to Devon Wildlife Trust and World Land Trust.
---
Can you imagine running 6,500 miles through the largest rain forest on earth, the longest mountain range, from the Southern Ocean and finally into the Caribbean Sea of Venezuela? Katharine & David Lowrie did just that, pulling all of their gear with them and without a support team. Why on earth would anyone do this? Katharine and David wanted to connect people with these incredible far-away habitats, and their importance to wildlife, local people and our planet; to remind us of their fragility and beauty.
Over the last few years, Katharine has spoken to thousands of people about their extraordinary journey and the wildlife that she and David are trying to protect. Now she is teaming up with local farmer-environmentalists Andy Bragg and Audrey Compton to bring you a really 'down to earth' evening at Exeter's Phoenix, inspiring you all to help Run the Planet without costing the earth! Join them and their host, Kevin Cox, RSPB chair and Dartmoor conservationist, from 7.30pm till 10pm on Wednesday 29th January.
Katharine is an RSPB ecologist who has worked for years with south-west farmers who have made room for wildlife on their farms. She hopes to inspire you to protect the natural world of South America – to prove that with small steps we can tackle seemingly insurmountable challenges; it's not too late to protect the world's remaining unspoilt ecosystems, but time is running out. She will describe her world first run through South America and identify what we can do to help conserve the continent's wilderness- from sourcing furniture ethically, to avoiding soya and exotic pets, to eating brazil nuts!
Andy Bragg's West Town Farm at Ide has been visited by many thousands of families and schools – making it Exeter's own farm; he farms organically and his productive beef herd also increases the soil's carbon content and biodiversity. Audrey Compton farms in the Teign Valley with wildlife and climate as top priorities; she also provides interactive talks for communities on how they can fight climate change in every part of their lives.
Signed and Dedicated copies of Katharine's books, 'Running South America with my Husband and other Animals' will be available (£19.99) and her children's book, 'Cyril's Big Adventure; A Real Nature Story with a Happy Ending' (£6.99).
https://www.5000mileproject.org/
---
VENUE: EXETER PHOENIX, Auditorium