Panel Discussion
Come As You Are Festival
Category
Book Now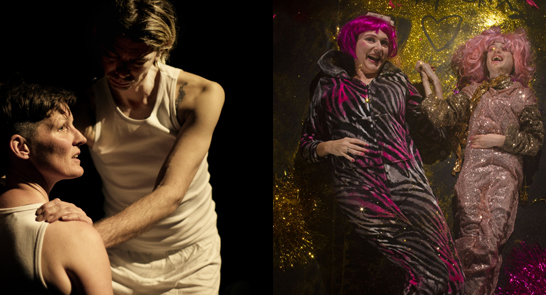 Panel Discussion

Part Of Camden People's Theatre's Come As You Are Festival
Come As You Are Panel Discussion
As part of the Come As You Are Festival, Exeter Phoenix and Camden People's Theatre will be partnering with local trans and LGBTQIA+ organisations to curate a panel discussion exploring experiences and issues that are pertinent to the local trans, non-binary and gender queer community in Exeter.
Queer Spaces: Where, When and How?
We will be looking at the 'pop up' nature of Queer spaces and discussing ways in which they could be made more permanent. Why do the majority of Queer politics and discussions tend to happen around one off events such as festivals, nights and Pride? How do we use these temporary Queer spaces to nourish the permanent Queer community outside of these events? And is there a way of increasing LGBTQIA+ presence in wider political and cultural life?
Panellists
Chairing the panel
Rhys Slade-Jones (they/them) is a Welsh, working class, queer artist. Rhys's work interrogates notions of gender identity in relation to place and time, with particular focus on shifting gender identities in working class communities. Rhys co-produces The Shift, an artist collective creating cabaret performances with and for working class people in Portsmouth.
Kimwei
Kimwei (he/him, non-binary, AFAB, 33) is a singer-songwriter, non-binary trans activist, speaker and workshopper. In 2017 his original song 'Nothing's Binary' went viral in the Exeter LGBTQ+ community through its music video with Billie Bottle and the resultant project by the same name still continues to grow – nothingsbinary.com
Max
Max Cohen is Manager of the Help, Support and Advocacy Team at the Intercom Trust www.intercomtrust.org.uk which provides support, training and consultancy around a range of needs and concerns affecting LGBT+ communities and individuals. He has been at The Intercom Trust in different roles, for around 20 years, including as a trustee, counsellor and helpline worker supporting people with their gender identity and sexual orientation.
He is particularly interested in the many aspects affecting trans+ and non-binary people, including individual creativity, the expression of gender diversity and the factors that can affect resilience.
Katja
Katja Frisinger (they/them) is a nonbinary lesbian from the USA. They are currently the Publicity Officer for Spectrum Choir, Devon's first LGBT+ choir, and have previously performed at BeYou, a popular local LGBT+ club night. While at the University of Exeter, they were heavily involved in the LGBTQ+ Society and Feminist Society, where they gave multiple lectures on issues of gender and intersectionality. In their spare time, they are often found discussing the issues marginalised people face, and how to make the spaces around them safer for everyone.
Maya
Maya de Freitas (she/her) is a queer poet and theatre maker from London now living in Exeter. When Maya isn't teaching the youth 9-5, she is currently developing her one woman autobiographical show 'Postcode Wars'. She also runs 'Scratch That!' a monthly scratch night at the Exeter Phoenix.
Venue: The Workshop, Exeter Phoenix