This event has passed.
Michael Messer's Mitra
Category
Book Now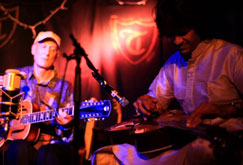 Michael Messer's Mitra
*Please note that there is a £1.50 fee per transaction
Michael Messer's Mitra
A unique fusion of blues slide guitar, Hindustani classical slide guitar and tabla rhythms.
Michael Messer's Mitra is a trio comprising British blues innovator and slide guitarist, Michael Messer, Hindustani slide guitar maestro from Mumbai India, Manish Pingle , and London-based tabla player, Gurdain Singh Rayatt.
This is more than another meeting of musicians from different cultures, this is a band with its own unique sound, an exhilarating and highly accessible fusion of blues and Hindustani classical music. With vocals, slide guitars and tabla, these three musicians from opposite sides of the globe create a fascinating musical journey, running from the banks of the Mississippi, via London, to Mumbai and the Ganges Delta.
'There's nothing I like more than a meeting of musical minds where you can't hear the joins, and that is absolutely what we have here.'
FROOTS
Venue: Exeter Phoenix Voodoo Lounge