Life Through An Ice Hole: Arctic Acidification
Category
Book Now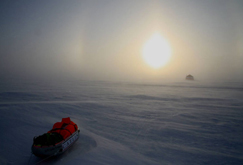 Life Through An Ice Hole: Arctic Acidification

Intrepid Explorers
Exeter Intrepid Explorer's talks are in partnership with University of Exeter Global Systems Institute and are held on the last Thursday of each month. Have a drink and listen to some tales behind field research and expeditions.
Speaker: Ceri Lewis
Ceri Lewis is a marine biologist conducting research into the response of marine animals to environmental change, such as ocean acidification and plastic pollution. She graduated from Swansea University, and completed her PhD at Newcastle University, before studying in Cape Town for a 3 year research post. Ceri joined the Catlin Arctic Survey in 2010 and 2011 to study ocean acidification processes in the High Arctic.
Life through an ice hole: Studying ocean acidification in the Arctic
Ocean acidification, the change in ocean chemistry driven by increasing atmospheric CO2 levels, is one of the biggest threats to our oceans. It is happening first and fastest in the Arctic Ocean. The Catlin Arctic Survey was an exciting multidisciplinary expedition, in which scientists and explorers investigated ocean acidification processes and their impact on marine organisms.
In this talk, Ceri shares her stories of this exciting field work, which involved camping on the sea ice in unheated tents at
-40°C while collecting vital data. She will talk about the importance of the science conducted on this expedition, the challenges of working at a low temperature and key findings of her work. Ceri has used the compelling story of her Arctic expedition to communicate the ocean acidification message to schools and the general public. She shares her experiences of communicating marine issues more widely, and stresses the importance of wider awareness in the context of the current change observed in the world's oceans.
Ticket Information
Please note that this is a free event, but advance booking is recommended to avoid disappointment. Entry will only be permitted on the door if not all tickets have been booked and collected.
Venue: The Workshop, Exeter Phoenix