Laurence Jones
'+ Joe Kelly
Category
Book Now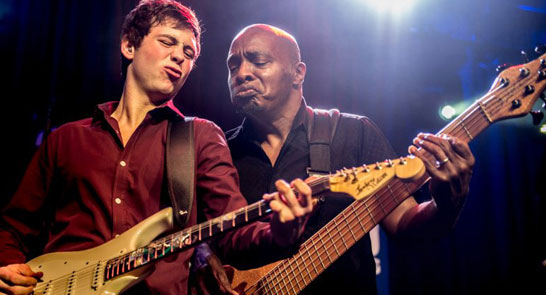 Laurence Jones
*A note on transaction fees
A small £1.50 fee is added to each transaction. This covers the cost of getting your tickets booked, that's everything from the booking software to card charges. We don't charge this to make a profit.
Laurence Jones
+ Joe Kelly
British blues artist Laurence Jones is often labelled 'the future of the blues', but this can't be true can it? He's the here and the now – socking it to audiences around the world. Blowin' the roof off every time.
He's the recipient of several major awards. He's sold serious numbers of his three solo albums, and there's a fourth on its way – produced by legendary producer Mike Vernon. He's not practicing. It's not a rehearsal. He's deadly serious and damn good at what he does.
Hailed as 'one to watch' as a teenager by the blues media, concert/festival bookers, blues fans and various guitar stars alike, young Laurence really has come of age. The blues cub has become a man with a plan. Turning heads and making jaws drop with his take-no-prisoners, incendiary live set and his stunning records.
Laurence and his band – Laurence Jones on vocals and guitars, Bennett Holland on keyboards, Greg Smith on bass and Phil Wilson on drums – put the power into their modern day blues rock with an edge. He sings, he plays and he writes – a triple threat – and he does so like a veteran of three times his age. But absolutely no ego. His feet firmly on the ground.
You can tell that by the Cheshire cat grin glued to his face during every gig. He lives to play that guitar. He loves to play that guitar. He just has to play that guitar…
Introduced into the British Blues Awards Hall Of Fame
BRITISH BLUES AWARDS
'A star in the making'
BBC RADIO 2
'Young Artist Of The Year 2014, 2015 & 2016'
BRITISH BLUES AWARDS
Voted 'Best European Guitarist'
EUROPEAN MUSIC AWARDS
Venue: Exeter Phoenix