This event has passed.
Ladykiller
Postponed
Category
Book Now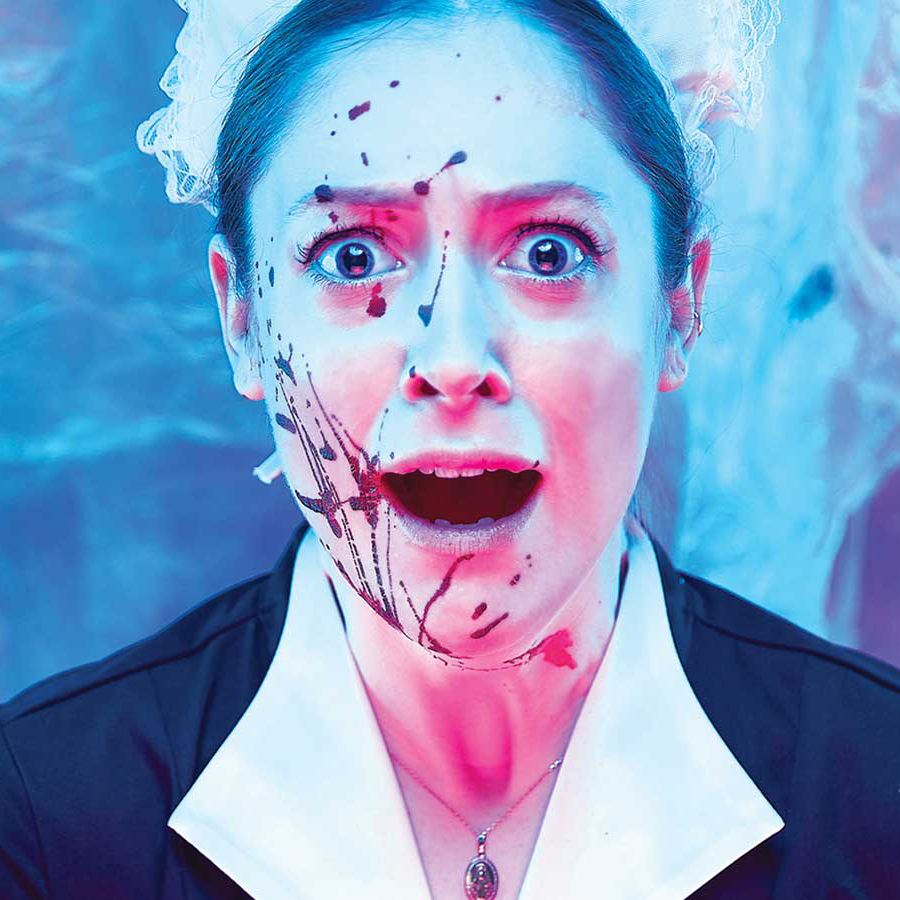 Ladykiller
The Thelmas
---
Event Postponed
This event was originally scheduled for 21 Apr 2020 / 23 Mar 2021 but has been postponed due to ongoing lockdown restrictions. We anticipate announcing a new date soon. Existing tickets will remain valid, and our box office will be in touch with ticket holders to let them know their options. If you have any questions please email boxoffice@exeterphoenix.org.uk 
---
A hotel room, a chambermaid and a dead woman. It's not what it looks like, really, it's not. It was self-defence… and anyway the woman was asking for it.
The chambermaid considers herself to be a pretty normal person; she reads books. She pretended to read the party manifestos at the General Election. She's even read The Psychopath Test and she's pretty sure she's not one so…
After rave reviews and sold out shows at Edinburgh Fringe 2018 and Vault Festival 2019, Ladykiller is a blood-soaked morality tale about victimhood, power and flipping the gender rule book on psychopathy. Charting one woman's journey from violent oppression to bloody revolution, it is the (gruesome) quintessential jet-black comedy for the age of the gig economy.
---
TICKET OFFERS
First 10 tickets: £10
Take advantage of our new early bird special! The first 10 tickets to this and other shows are just £5. The discount will be applied automatically at the last checkout screen, or call our box office on 01392 667080 to check availability.
Save £6 when you book any 3 theatre/dance shows
Explore more of our theatre and performance programme, and enjoy money off your tickets! Save £6 when you book for three shows from our performance programme. Book any three theatre or dance shows and your £6 discount will be applied automatically.
---
★★★★★ 'A smash hit at this fringe and beyond'
BROADWAY BABY
★★★★★ 'Madeline Gould's script is unflinching…'
THE SKINNY
★★★★★  'an eerily convincing portrait of an unhinged mind.'
THREE WEEKS
★★★★ 'A very funny and refreshingly offbeat comedy from The Thelmas.'
THE STAGE
★★★★ 'Hannah McClean is superb as the maid.'
THE SCOTSMAN
★★★★  'a bracing… monologue of fierce intensity.'
THE LIST
★★★★  'a mesmeric performance.'
FRINGE GURU
★★★★ 'A bloody brilliant hymn to the dark side of a zero hours worker'
TO DO LIST
★★★★  'one of the best written one-woman pieces at this year's Fringe'
MIRO MAGAZINE
---
Writer: Madeline Gould
Director: Madelaine Moore
---
Running time: 65 mins (no interval)
Age guidance: due to the complex themes, language and violent nature of story, Ladykiller is better suited to ages 16+
Content Warning: swearing, fake blood, descriptions of medical procedures, violence, murder and sexual assault.
---
Venue: Auditorium, Exeter Phoenix
---
*Subject to a £1.50 ticketing system charge. We don't charge this to make a profit. Find out more >>