Kakegurui – Compulsive Gambler (12A)
Events Temporarily Postponed
Category
Book Now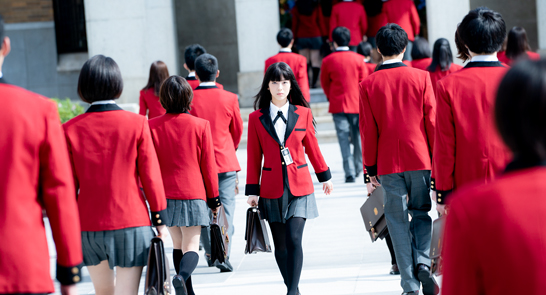 Kakegurui – Compulsive Gambler (12A)
*Subject to a £1.50 ticketing system charge. We don't charge this to make a profit. Find out more >>
EVENTS TEMPORARILY POSTPONED
In response to the developing coronavirus situation in the UK, Exeter Phoenix is currently closed to the public. This is a temporary measure and we are taking this on a month-by-month basis. No events will be taking place during March, and the vast majority of events will be rescheduled for later in the year. We are following government advice and acting in the best interests of our visitors and staff.
Unprecedented closures like this with no confirmed government support will be hugely damaging for charities like Exeter Phoenix and many other sectors. If you are in a position to consider making a donation HERE, we would be extremely grateful.
---
Kakegurui – Compulsive Gambler (12A)
?? ?????
Dir. Hanabusa Tsutomu
2019 | 119 mins | Japan
Japanese with English subtitles
---
TICKET PRICES:
£8* – Standard
£5* – Student / Under 25
£21* – 3 film tickets for £21
---
At Hyakkaoh Private Academy students are ranked on their gambling abilities rather than grades. The coveted prize for becoming the ultimate gambling champion is a 'blank future' that will give the winner autonomy over their life after graduation. Who will win happiness by betting on their lives?
---
JAPANESE SEASON | CAFÉ BAR OFFER
Fancy a light bite? We're offering our vegetable gyoza appetiser alongside a bottle of Asahi for only £6.95. You can pick up this offer throughout all of March!
---
Please note, the film will start promptly as there will be no adverts before this screening.
---
JAPAN FOUNDATION TOURING FILM PROGRAMME 2020
Happiness is A State of Mind: Joy and Despair in Japanese Cinema
The UK's largest festival of Japanese cinema is back for its 17th edition under the concept of 'happiness'.
Happiness, though universal in its importance, is felt so subjectively by humankind that the definition of the concept is still very elusive. And yet, the search for happiness has long provided Japanese cinema with a staple theme, and it is within its framework that the Japan Foundation Touring Film Programme 2020 has been curated.
Embracing the rich and complex spectrum of emotions that go hand in hand with this concept, the programme seeks to present the highs and lows experienced in pursuit of happiness in Japan, showcasing diverse cinematic voices as they shine a light on stories of love, social inclusion, the resilience of humankind through times of hardship, and non-conventional paths to achieving and maintaining joy.
Since 2004, the Japan Foundation has showcased, in close partnership with distinguished film venues across the nation, some of the finest Japanese films in order to introduce their versatility and uniqueness to the UK. With a line-up of contemporary titles that have never had a UK release, documentaries, anime, and classic masterpieces, there is always something for everybody.
---
#JFTFP20 | @jpflondon | www.jpf-film.org.uk
---
VENUE: EXETER PHOENIX, STUDIO 74