This event has passed.
Isy Suttie
Cancelled
Category
Book Now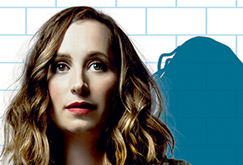 Isy Suttie
*Please note that there is a £1.50 fee per transaction
** CANCELLED **
Unfortunately Isy Suttie has had to cancel her Autumn tour and this show has been postponed.
A message from Isy:
"With a heavy heart, I'm so sorry to have to cancel this show but due to illness I have decided to cancel the rest of my Autumn tour to allow myself to recover from an ongoing problem.  I haven't taken this decision lightly and am truly sorry to disappoint in any way.  I hope to see you in the new year."
MHA Presents
Isy Suttie: The Actual One
The Actual One is Isy Suttie's brilliantly funny new show about that moment in your late 20s when you suddenly realise that all your mates are growing up without you – featuring stories, songs and readings from the new book of the same name.
The invisible deal that Isy had made – to prolong growing up for as long as possible – was all in her head. Suddenly everyone around her is into mortgages, farmers' markets and nappies, rather than skinny-dipping in the sea and sambuca sessions on rope-swings. When her dearest friend advises Isy that the next guy she meets will be not just The One, but The Actual One, Isy decides to delay the onset of adulthood for just a bit longer until a bet with her mum results in a mad scramble to find a boyfriend within a month.
Isy Suttie is an award-winning comedian, writer, songwriter and actress. Her TV acting credits include Peep Show, Shameless and Skins. She regularly performs to live audiences and on radio, including her Sony Award-winning BBC Radio 4 series Isy Suttie's Love Letters, and has been nominated for a British Comedy Award three times. Isy has written for Red, Glamour, the Guardian and the Observer.
Copies of Isy's new book The Actual One will also be available for purchase on the evening during a signing session at the venue.
Venue: Exeter Phoenix