HOUND OF THE BASKERVILLES (PG)
Hell-Tor Film Festival
Category
Book Now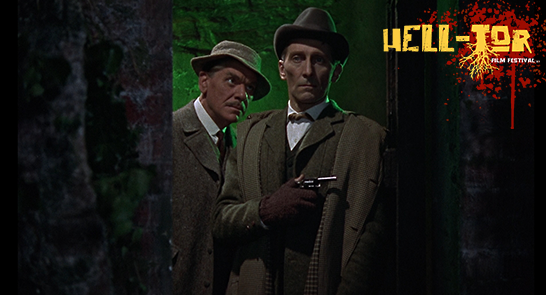 HOUND OF THE BASKERVILLES (PG)
*Subject to a £1.50 ticketing system charge. We don't charge this to make a profit. Find out more >>
HELL-TOR FILM FESTIVAL
Hound Of The Baskervilles (PG)
+ STEPHEN VOLK In conversation with JONATHAN RIGBY
Dir. Terence Fisher
1959, UK, 87 Mins
Peter Cushing, Christopher Lee
---
Hell Tor invites you to a very special audience with English actor and film historian Jonathan Rigby (English Gothic, History of Horror) and award winning screenwriter Stephen Volk (Ghostwatch, Afterlife, Dark Masters trilogy) to discuss Hammer's 1959 'Hound of the Baskervilles', as well as reflecting upon other representations of 'Hound of the Baskervilles' and their own love of gothic horror.
The discussion will be followed by a screening of 'Hound of the Baskervilles' starring Peter Cushing and Christopher Lee.
---
When a nobleman is threatened by a family curse on his newly inherited estate, detective Sherlock Holmes is hired to investigate.
---
HELL-TOR FILM FESTIVAL
A new festival celebrating Dartmoor's rich history of ghosts, ghouls and witchcraft. The inaugural Hell-Tor film festival will present a weekend of Gothic horror with films, talks and readings inspired by the folklore of the moor.
Hell-Tor is a mixture of classic horror features, shorts, lectures and opportunities to hear renowned genre directors, authors and actors talk openly of their own love of the genre and the regions legacy. It's time for horror to come home.
---
Stephen Volk
Stephen Volk is probably best known as the BAFTA-winning writer of the notorious (some say legendary) BBCTV "Halloween hoax" Ghostwatch, which spooked the nation, hit the headlines, caused questions to be raised in Parliament, and was recently voted one of the top British horror films of all time. He was also creator and lead writer of ITV's award-winning paranormal drama series Afterlife starring Lesley Sharp and Andrew Lincoln.
Jonathan Rigby
Jonathan Rigby is an English actor and film historian who has written the following books – English Gothic: A Century of Horror Cinema (2000), Christopher Lee: The Authorised Screen History (2001), Roxy Music: Both Ends Burning (2005), American Gothic: Sixty Years of Horror Cinema (2007), Studies in Terror: Landmarks of Horror Cinema (2011) and Euro Gothic: Classics of Continental Horror Cinema (2016). Jonathan has contributed audio and/or video commentaries to the DVD/Blu-ray releases of numerous horror films. In 2010 he was series consultant on the three-part BBC Four documentary A History of Horror with Mark Gatiss.
---
TICKETS
Explore more of Hell-Tor Festival for less with a day or weekend ticket.
Book your £60 weekend pass here >>
Book your £35 Saturday pass here >>
Book your £30 Sunday pass here >>
Follow the booking link at the top of this page to book this individual event.
---
---
VENUE: EXETER PHOENIX, Auditorium