Hellraiser (18)
Hell-Tor Film Festival
Category
Book Now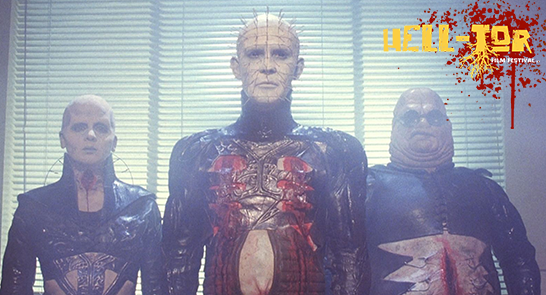 Hellraiser (18)
*Subject to a £1.50 ticketing system charge. We don't charge this to make a profit. Find out more >>
HELL-TOR FILM FESTIVAL
Hellraiser (18) SCREENING
+In conversation with Nicholas Vince
Dir. Clive Barker
1987, UK, 94 Mins
Andrew Robinson, Clare Higgins
Ashley Laurence, Doug Bradley, Nicholas Vince
---
A rare opportunity to watch cult horror hit Hellraiser with one of the demon Cenobites in attendance! Actor, director and author Nicholas Vince will reflect upon the creation of the film, working with Clive Barker and a life lived behind monstrous masks. The Q & A is followed by a screening of the film.
Bored sensualist Frank Cotton solves the mystery of a Chinese puzzle-box he bought on a trip to Morocco and discovers the entrance to Hell where the resident Cenobites cruelly rip the flesh from him. When Frank's brother Larry and his wife Julia move in to Franks house Frank rises half-formed from a pool of slime and demands Julia provide him with the human meat he needs to put flesh on his bones.
---
HELL-TOR FILM FESTIVAL
A new festival celebrating Dartmoor's rich history of ghosts, ghouls and witchcraft. The inaugural Hell-Tor film festival will present a weekend of Gothic horror with films, talks and readings inspired by the folklore of the moor.
Hell-Tor is a mixture of classic horror features, shorts, lectures and opportunities to hear renowned genre directors, authors and actors talk openly of their own love of the genre and the regions legacy. It's time for horror to come home.
---
Nicholas Vince
Nicholas Vince played The Chatterer Cenobite in Clive Barker's Hellraiser & Hellbound: Hellraiser II and Kinski in Barker's Nightbreed.
He is currently working on a one man stage show, I AM MONSTERS! which he'll perform as part of the London Horror Festival.
---
TICKETS
Explore more of Hell-Tor Festival for less with a day or weekend ticket.
Book your £60 weekend pass here >>
Book your £35 Saturday pass here >>
Book your £30 Sunday pass here >>
Follow the booking link at the top of this page to book this individual event.
---
---
VENUE: EXETER PHOENIX, STUDIO 74