This event has passed.
Free Fire (18)
Thu 01 Jan 1970 - Thu 01 Jan 1970
Category
Book Now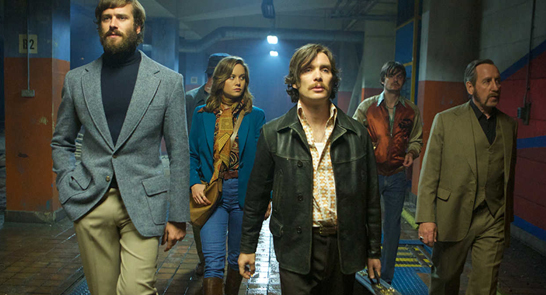 Free Fire (18)
*A note on transaction fees
A small £1.50 fee is added to each transaction. This covers the cost of getting your tickets booked, that's everything from the booking software to card charges. We don't charge this to make a profit.
Free Fire
Dir. Ben Wheatley
2016, 90 mins, France/UK
Starring: Brie Larson, Cillian Murphy, Armie Hammer
Showing Times
Fri 28 Apr: 2.30pm & 6.30pm
Sat 29 Apr: 6.30pm
Thu 4 May: 6pm & 8pm
Ben Wheatley (Down Terrace, Kill List, A Field in England, High-Rise, Sightseers) is one of the UK's most exciting and prolific cinematic talents. Hot on the heels of last year's High-Rise, he returns with action thriller Free Fire.
Sharp-witted Justine (Brie Larson) brokers a deal on behalf of two Irishmen setting them up to buy a stash of guns from seedy gangsters. But when shots are fired during the handover, complete pandemonium ensues. Dripping with blood, sweat and irony, this heart-stopping game of survival is not to be missed.
Steeped in 1970s Americana, the crackling script and knockout cast have as much fun with character and dialogue as we do with the fact that there are no mobile phones to save the day.
Wheatley's virtuoso filmmaking filmmaking pays knowing tribute to the kinetic cinema of directors such as Sam Peckinpah and Ringo Lam. With the self-confessed Wheatley fan Martin Scorsese as one of the film's executive producers and a pulsating score from Geoff Barrow (Portishead) and Ben Salisbury, this is a masterclass in bravura filmmaking.
'Crosses the irreverent cheekiness of Quentin Tarantino's "Reservoir Dogs" with the ruthless spirit of 1970s B-movies.'
VARIETY
'Wheatley continues an unbroken run of quality, helped by a great cast and a startlingly effective premise.'
EMPIRE



Venue: Studio 74, Exeter Phoenix
---
Seeing as you're here…
Did you know that Exeter Phoenix is a charity? We couldn't do what we do without the generosity of our community. Keep creativity thriving in your city and make a donation today >>
---