Feminista Film Festival
UK Tour
Category
Other Information
No ads before screening
Book Now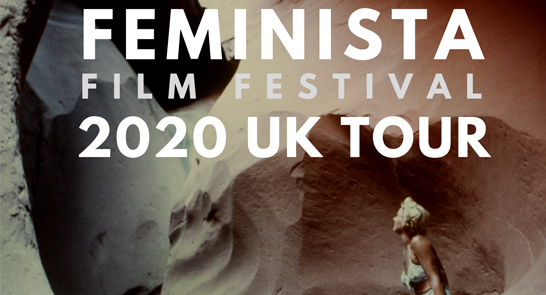 Feminista Film Festival
*Subject to a £1.50 ticketing system charge. We don't charge this to make a profit. Find out more >>
Feminista Film Festival
Dir. Various
2019 | 95 mins | Various
---
SHOWING TIMES:
Sun 8 Mar: 4.30pm (No ads before screening)
---
TICKET PRICES:
£8* – Standard
£5* – Student / Under 25
£21* – 3 film tickets for £21
---
Feminista Film Festival comes to Exeter for the first time. Celebrate International Women's Day with this premium selection of short films telling the most inspiring stories about women and girls from around the world. Programme includes 8 festival favourites – films from Wales to Pakistan, from swimmers to activists. Inspiration guaranteed!
---
---
Featured Short Films
---
Life of Pie |
Felt Soul Media
Singletrack shredders and pizza chefs Jen Zeuner and Anne Keller have transformed their town into a mountain biking hotspot with their Hot Tomato Café. It wasn't easy at first — some conservative residents weren't quite ready for their "lifestyle." But they are now indispensable members of the community.
Run time: 11 minutes 25 seconds
---
Girls Section | Kathryn Everett
Life is hard in remote northern Pakistan – especially for women, who face significant cultural, economic, and geographic barriers to opportunity and education. For the first time, girls in the region are challenging tradition for their right to go to school.
Run time: 12 minutes 30 seconds
---
My Mom Vala | RC Cone
Rivers run through Vala Árnadóttir's blood and she's teaching her daughter Mathilda everything she knows. This short film paints the fantastical and mysterious country of Greenland through Mathilda's fantasies and Vala's eyes.
Run time: 9 minutes 45 seconds
---
Sarah | Boryana Ivanova

Once a swimming champion in Syria, now Sarah finds herself on a broken boat in the Mediterranean. She knows that this will be the most important race she will ever compete in. The prize – saving her own life and the life of her sister.

Run time: 3 minutes 52 seconds
---
Katie | Felt Soul Media
Katie Lee was many things: Hollywood starlet turned river rat, guitar-wielding folk singer, uncompromising defender of wilderness and mischievous rabble-rouser. This short film pays tribute to a life shaped by beauty, adventure and the sorrow of a paradise lost, but most of all by uninhibited passion.
Run time: 9 minutes 43 seconds
---
Grace | Rachel Pikelny
Captures the journey of a 36-year-old suburban soccer mom and breast cancer survivor who decides to reclaim her body by covering her mastectomy scars with an elaborate tattoo. Directed by a recent breast cancer survivor and created by an all-female crew.
Run time: 16 minutes
---
Nela | Andrew Margetson
A strikingly intimate study of the great classical ballerina Marianela Nuñez as she dances to Nina Simone, choreographed by Will Tuckett.
Run time: 3 minutes 26 seconds
---
My Big White Thighs and Me | Hannah Maia
A young-ish woman has fallen out of love with her own body. Frustrated, she wishes they didn't have to hang out quite so much. Committed to making a change she sets herself the simple goal of swimming in open water at least once a month for a year.
Duration: 25 minutes
---
VENUE: EXETER PHOENIX, STUDIO 74