This event has passed.
Dog / Actor
Events Temporarily Postponed
Category
Book Now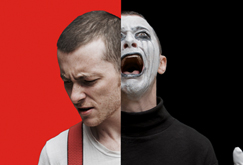 Dog / Actor
EVENTS TEMPORARILY POSTPONED
In response to the developing coronavirus situation in the UK, Exeter Phoenix is currently closed to the public. This is a temporary measure and we reviewing this on a month-by-month basis. No events will be taking place during April – the vast majority of events will be rescheduled for later in the year.
Please note that the team are working through rescheduling a very high volume of events, but please rest assured we will be in touch with all ticket holders in due course. Please bear with us during this time.
Unprecedented closures like this with no confirmed government support will be hugely damaging for charities like Exeter Phoenix and many other sectors. If you are in a position to consider making a donation HERE, we would be extremely grateful.
---
*Subject to a £1.50 ticketing system charge. We don't charge this to make a profit. Find out more >>

DOG / ACTOR
Threedumb Theatre
---
Two explosive and comedic short plays written by Steven Berkoff, performed back-to-back by the same one actor. The first play: DOG follows a day in the life of a racist football hooligan and his beloved pitbull terrier, Roy, who changes his life.
The second play: ACTOR is a spoken word monologue which delves into the heart of the acting industry, humorously and poignantly portraying the trying life of a struggling artist. Without the use of any set or props, DOG/ACTOR presents a masterclass in physical theatre and comedic storytelling, promising a thrilling theatrical experience.
---
????? – 'Tour-de-force… Riveting and stylish…'
BROADWAY BABY
---
Threedumb Theatre's double-bill was first presented at the Watford Fringe Festival in 2018 and has since received sell-out runs in London and Dubai.
---
VENUE: EXETER PHOENIX, Studio 1