Dark Knights – The Christmas Cracker
Category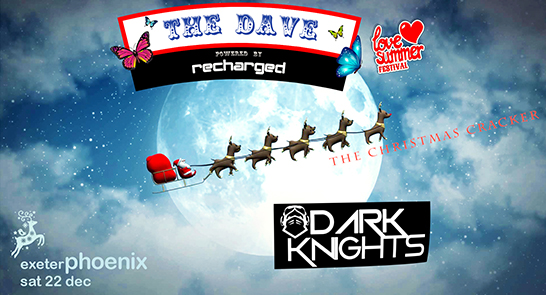 Dark Knights – The Christmas Cracker

Dark Knights – The Christmas Cracker
The Dave teams up with Dark Knights to bring you one heck of a Christmas Party – The Christmas Cracker!
The Dave will be hosted in the Main Bar area which will be fully kitted out with Christmas – bring your snowballs and wear your best Christmas jumper.
The Workshop will be hosted by the mighty Dark Knights crew to give you Christmas goers a choice of music and also some venturing about the great venue.
The Dave
Creature Craig
Pragmatik
Dave Moore
Mr K
Che
Nick Manning
El Barco
Kelly Jay
Funk N Stomp
Barclay Wood on percussion throughout.
Dark Knights
Rowland The Bastard
MetroBoy
Gavin Quiet
Dizzit
Sofie-F
Dan Lane
Opzio
& MORE TBC
Further Details can be found here >>
Venue: Exeter Phoenix, Cafe Bar & Workshop