This event has passed.
Cosmonauta
'+ Introduction
Category
Book Now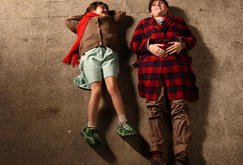 Cosmonauta
*A note on transaction fees
A small £1.50 fee is added to each transaction. This covers the cost of getting your tickets booked, that's everything from the booking software to card charges. We don't charge this to make a profit.
Cosmonauta
Italian with English subtitles.
Dir. Susanna Nicchairelli, Italy, 2009, 85mins,
+ Introduction
The film is organised by Valentina Todino on behalf of the Italian Cultural Association Exeter. She would like to thank the Department of Italian at the University of Exeter for their help in choosing again another brilliant film.
This Italian coming-of-age film was written and directed by Susanna Nicchiarelli. It won the Controcampo Italiano at the 66th Venice International Film Festival and was also the recipient of the Ciak d'oro for best first work.
Late 50s to early 60s, when the space war between the Soviet and US was fiercely going on, a fifteen-year-old member of the communist party, Luciana, develops her ideals while living with her bourgeois stepfather, and among male chauvinists in a communist group in Rome. Her only friend is her brother Arturo, who dreams of going to space but is unable to do so due to his epilepsy.
Please check the Italian Cultural Association Exeter page on Facebook for more information and updates on Italian related events in Exeter.
Venue: Studio 74, Exeter Phoenix