Cave Mouth EP Launch Party
With Martha Carnage + DJs
Category
Book Now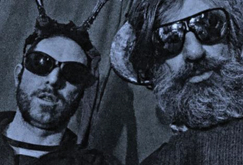 Cave Mouth EP Launch Party
*A note on transaction fees
A small £1.50 fee is added to each transaction. This covers the cost of getting your tickets booked, that's everything from the booking software to card charges. We don't charge this to make a profit.
Cave Mouth EP Launch Party with Martha Carnage and DJ's
Phonic FM and Anti-Telly Time present the Cave Mouth EP launch party at the Exeter Phoenix Voodoo Lounge on Good Friday. Support comes from new Exeter band Martha Carnage and will also feature a selection of Phonic FM DJ's. Admission is only £3.00; all profits from the door will go to Phonic FM, Exeter's local alternative community arts radio station.
Living off a strict diet of road kill and cider, Cave Mouth play a unique blend of funk, hip-hop, blues and rock – Swamp Funk and this night marks the release of their new 'I don't have a Dog' EP which will be available to purchase on the same day via most online digital music retailers.
With influences as diverse as Prince, Jack White, Kate Bush and Busta Rhymes, their sound is deliciously gritty. Cave Mouth play regularly in Exeter, Bristol and on the festival circuit, even going as far as Hong Kong to appear at the Clockenflap festival for two years running. Their live shows are quickly gaining a reputation as being edgy, exciting and they are great to dance to.
The band all grew up in Devon and it was their love and involvement with the free party, house party and rave scene which helped influence their sound. Pulling the Strings was the band's last single accompanied by a video which received critical acclaim with their songs regularly played on BBC 6 Music and BBC Introducing.
Martha Carnage features three prominent and established Exeter musicians, Andy Shaw, Law Turley and Rich Austin. This event will be their second live outing.
Venue: Exeter Phoenix Voodoo Lounge