Bob Log III
Category
Other Information
Standing
Book Now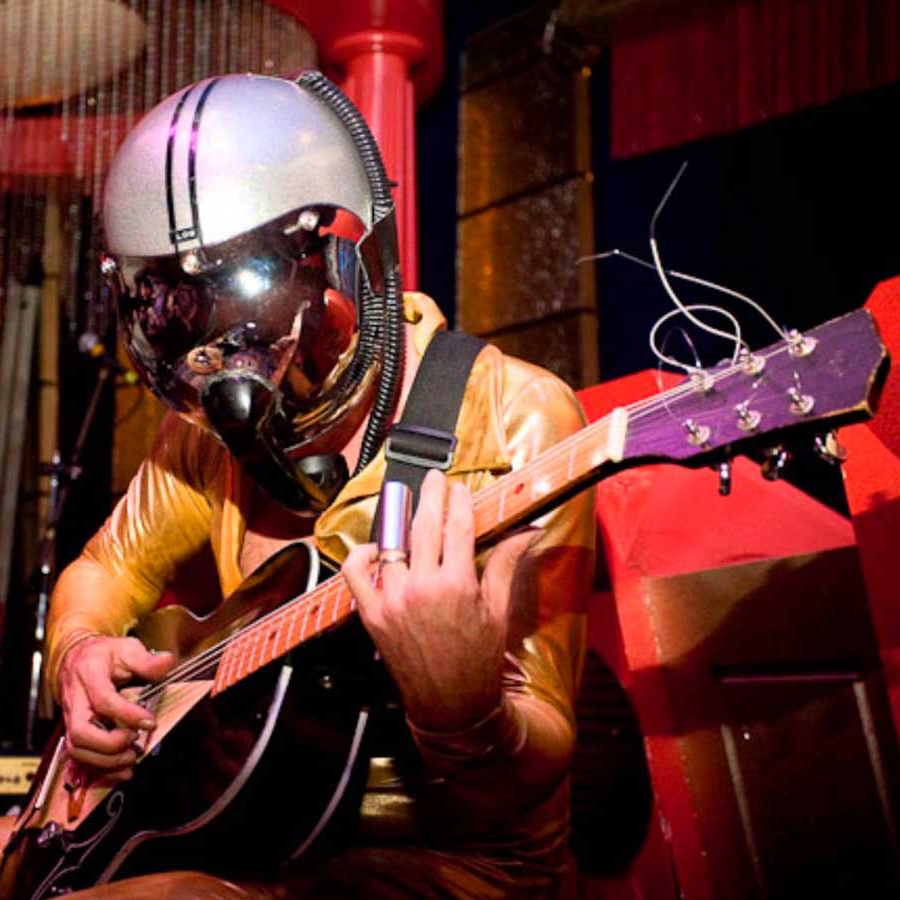 Bob Log III
This event was due to take place on 1 Jun 2020 / 26 Feb 2021 but has been rescheduled to Sat 26 Feb 2022 due to ongoing coronavirus restrictions. Tickets bought for the original dates will remain valid and the box office will be in touch with affected ticket holders. If you have any questions please email boxoffice@exeterphoenix.org.uk. Thank you for your patience. 
---
Bob Log III, Fat Possum recording artist and one man band crown prince of punk blues from Tuscon, Arizona. Witnessing Bob Log live is an unmissable and unforgettable experience. By rights he should be a punk blues stadium super star. He takes to the stage with his face masked in a crash helmet with a black visor and a telephone wired in it for a mic and wearing a blue jump suit. Bob then unleashes a torrent of hardcore Mississippi Delta blues, hip hop beats and punk rock. The crash helmet telephone distorts the vocals and his hands, arms, legs and feet become a blur of jump suit clad limbs as he plays slide, triggers drum machines and drums with his feet simultaneously.
Bob Log's identity and history is shrouded in mystery and rumour, probably helped by his stage get up and also when his record company Fat Possum put out an early press release claiming Log had a monkey's paw grafted on to his wrist after a boating accident as a child.
In fact Bob Log III was born in Tucson, Arizona and is a virtuoso slide player who plays with extremely thick strings tuned very loose that gives him his unique floppy sound. Growing up, Log listened to artists such as Chuck Berry, Bo Diddley and AC/DC. Bob Log got his first guitar at the age of 11, and by the age of 16 he had become smitten with Delta Blues, modelling his slide guitar style on that of Mississippi Fred McDowell.
Log began his music career recording with Mondo Guano, a four-piece metal-blues band based in Arizona. Upon leaving Mondo Guano, Log went on to perform as one-half of seminal early Delta punk blues duo Doo Rag. Bob Log III was born when Bob was in the middle of a US tour with Doo Rag and his drummer quit. With necessity , ever the mother of invention, Bob donned a helmet he had picked up in a thrift store, took to the stage and kicked his guitar case for percussion and thus the legend of Bob Log was born.
In this current world of homogenised and mass marketed music, we need true mavericks like Bob Log III more than ever.
---
---
Venue: Studio 1, Exeter Phoenix
---
*Subject to a £1.50 ticketing system charge. We don't charge this to make a profit. Find out more >>