Black Foxxes + Indie Club
Category
Book Now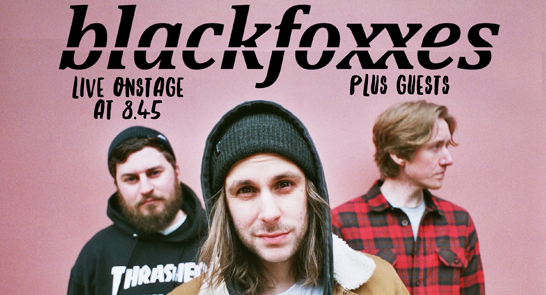 Black Foxxes + Indie Club

Due to the unfortunate events at The Cavern, this event has now moved to Exeter Phoenix. You can help support The Cavern's recovery here.
Black Foxxes
+ Guests
With an aim to play what comes naturally, as loud as possible and with absolutely no gimmicks involved, South west three-piece Black Foxxes have pricked the ears of Kerrang!, Rock Sound, MusicWeek, The Independent and Punktastic, among many others, in their short career to date. Their debut EP Pines received praise across the board and Black Foxxes' unique and unflinching brand of heart-wrenching rock has found continuous support from BBC Introducing in Devon, with high praise coming from BBC Devon presenter James Santer. More recently, the band's tracks have been gaining ground at BBC Radio 1 with plays from Jen & Ally, Daniel P Carter, and Phil Taggart.
Wielding their dynamic mix of raw noise, pure melody and utterly immersive vocal breaks, Black Foxxes thrive on playing live and always ensure that everyone present will remember them, no matter what.
Indie Club
DJ Tom will be bringing indie anthems into The Voodoo Lounge after the bands.
KASABIAN • OASIS • ARCTIC MONKEYS • THE CURE • THE LIBERTINES • THE WHITE STRIPES • MGMT • THE STROKES • THE SMITHS • THE CLASH • BLUR • BASTILLE • THE KILLERS • JAMIE T • ARCADE FIRE • BLOC PARTY • The FRATELLIS • JOY DIVISION • THE WOMBATS • MUSE • THE MACCABEES • THE VACCINES • PALMA VIOLETS • THE 1975 • MUMFORD & SONS • THE PIXIES + MORE
Venue: The Voodoo Lounge, Exeter Phoenix