Bassline Soiree With Notion and Skepsis
Fokus Present
Category
Book Now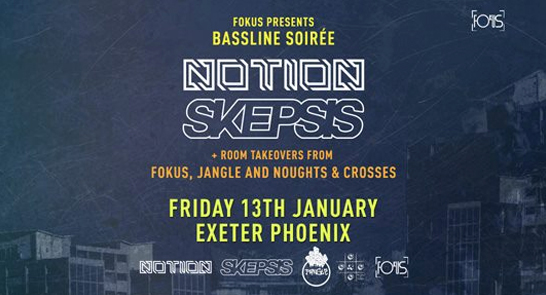 Bassline Soiree With Notion and Skepsis
*A note on transaction fees
A small £1.50 fee is added to each transaction. This covers the cost of getting your tickets booked, that's everything from the booking software to card charges. We don't charge this to make a profit.

Fokus present
Bassline Soirée with Notion and Skepsis
+ Room takeovers from Jangle, Noughts & Crosses and Fokus
NOTION
The Bristol based producer and DJ has a style that is his own blend of UK funky, garage and grime. He is developing a massive reputation for himself and looks set to blow up in the next 12 months.
SKEPSIS
Hailing from South London, Skepsis (known to his friends as Scott Jenkins) is no stranger to any fan of the UK bass sound. Smashing into the limelight in 2015 with a series of gritty originals and remixes, his heavyweight basslines and intricate sounds have gained him fans from all over the world in a very short period of time.
By 2016 he had already played multiple festivals as well as gigging regularly around the UK to critical acclaim, with releases on established labels such as In:Flux, Project Allout, DeepRot, & many more. With music supported by names such as Logan Sama, Scott Garcia & Sticky, Marcus Nasty & more, at just the age of 21 fans should be massively excited to hear what the future holds for Skepsis; and at this rate, the sky really is the limit.
Venue: Exeter Phoenix