Writing for Business Use
One Day Workshop
Category
Book Now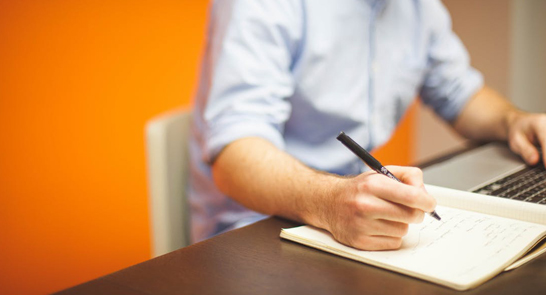 Writing for Business Use
*Subject to a £1 ticketing system charge. We don't charge this to make a profit. Find out more >>
One Day Workshop
Writing for Business Use
Daniel is the Artistic Director of All The Pigs, a company experienced in teaching writing and spoken word techniques and developing workshops for both business users and creative writers.
A graduate in Business from Plymouth University, Daniel went on to train as an actor at the Oxford School of Drama. He also has a backgrounds in marketing, production and PR. This experience has led Daniel to develop an excellent understanding of how creative writing can improve business practice. His industry knowledge, alongside his work as an actor and writer, means Daniel can improve not only the writing but also general delivery and oration skills to those taking one of our courses.
The workshop will equip you with an understanding of the principles that govern a successful speech, pitch or presentation both in written and spoken form.
Our course will improve your:
Writing skills

Ability to write an effective speech
Ability to prepare a persuasive sales pitch, business plan or group presentation
Ability to deliver a speech to best connect with your chosen audience
Learn how to connect with your audience emotionally and improve your chances of success whether you are rewriting your website, speech, work-based presentation or pitching for promotion.
What will I gain from this course?
Writing:
Practical tools to help you truly engage with your audience.

An understanding of speech composition:

You will understand and critically analyse some of the greatest speeches of our time and be guided in how to apply the principles to your own writing.
Learn how to compose and structure your own speech.
You will learn the practical tools of 'the art of persuasion' to incorporate into your business presentation and pitches.

To have a go at writing a piece yourself and testing it on the group.
Voice:
Understand and learn the tools to improve the clarity of your speech.

Learn techniques to warm up your voice ensuring the highest quality of vocal presentation.
Practicing how to project your voice effectively.
Staying calm and grounded to best connect with your audience.
You will have a go at delivering your own piece and receive group feedback.
You will take away an inner confidence that you have gained and the practical skills to prepare and deliver a confident professional speech or pitch.
The workshop has been designed for visual and kinaesthetic learners and supports those with dyslexia.
Venue: Exeter Phoenix