The Dark Room
GAME>PLAY
Category
Price
£3*
Time
1pm (Child Friendly) | 4.30pm (18+)
Book Now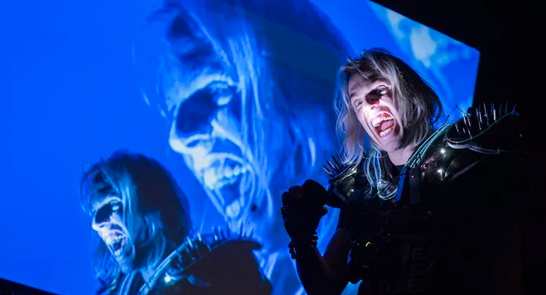 The Dark Room
*Subject to a £1 ticketing system charge. We don't charge this to make a profit. Find out more >>
GAME>PLAY Presents
The Dark Room
Show Times:
Show 1 – Child Friendly – 1pm
Show 2 – Adults only (18+) – 4.30pm
---
YOU AWAKE TO FIND YOURSELF IN A DARK ROOM!
The audience is trapped in a retro video game with a sadistic end-of-level boss. Now either escape and win £1000 – or be brutally murdered by the rest of the crowd!
Will you:
A) Find the Light Switch?
B) Go North?
C) Abandon Hope?
Filled with stand-up, appalling prizes and more audience chanting than you'd get at a protest – this is a gut-busting rock n' roll experience for everyone who buys a ticket.
There's also a child-friendly(ish) version, which took home Best Kid's Show at Leicester Comedy Festival 2018.
????? 'You must see this show'
BRITISH COMEDY GUIDE
????? 'Utterly unique.'
THE SKINNY
---
GAME>PLAY is a brand new one-day gaming festival for Exeter – bringing together playable art, retro gaming, indie games and theatre shows together under one roof.
We're filling Exeter Phoenix for the entire day with free exhibits, arcade games, virtual reality experiences and lots of family friendly fun.
---
Venue: Exeter Phoenix