Songs You Don't Know You Know VI
Baby G on… Fashion
Category
Book Now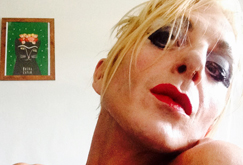 Songs You Don't Know You Know VI
*A note on transaction fees
A small £1.50 fee is added to each transaction. This covers the cost of getting your tickets booked, that's everything from the booking software to card charges. We don't charge this to make a profit.
Songs You Don't Know You Know VI
Baby G on… Fashion
Mondays are the new black. Halloween is in. More face. Don your gladdest rags, sashay down to Exeter Phoenix and savour Songs You Don't Know You Know VI – Baby G on… Fashion.
Mixing drag, comedy, showbiz stories and a smorgasbord of snazzy and spooky songs, this particular show will see Baby work a Halloween catwalk upon which you will be invited to do a turn and strut your funky stuff.
Dress fine, dress fancy, dress up – 'tis the season and there will be a prize of a meal for two for the Queen of the Catwalk*.
*gender irrelevant
Venue: Exeter Phoenix