This event has passed.
See Me, Hear Me And Relax
Category
Book Now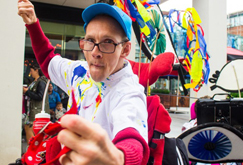 See Me, Hear Me And Relax
*A note on transaction fees
A small £1.50 fee is added to each transaction. This covers the cost of getting your tickets booked, that's everything from the booking software to card charges. We don't charge this to make a profit.
See Me, Hear Me And Relax
Approx. 30 mins run time
In September 2016 a flashmob performance took place in Exeter, created by people with, and without, learning difficulties. Encounter Theatre & Therapy wanted to keep the conversation going so they made a film about reactions to it. This film is the final point of a creative process between participants who span a broad range of abilities. The piece addresses the challenges of access and visibility for disabled people in the wider public culture.
The film screening will be followed by a Q&A with the film's directors David and Nathan, and Encounter Theatre & Therapy's Co-Artistic Directors Amerie and Samantha. This will give an opportunity to find out more about the process and where they hope it will lead to in the future.
The over-arching project, leading to the creation of this piece revolves around delivering a yearly Flashmob event which sees disabled & non-disabled people putting on public improvised performances in Exeter City Centre. EncounterTT created the #SeeMe #HearMe annual performance event to support adults with learning disabilities to emerge as artists and use performance as a tool for self-advocacy.
EncounterTT
EncounterTT is based at Exeter Phoenix as one of their 2017 Associate Artists. The company is led by Co-Artistic Directors Amerie Rose and Samantha Wraith who are both registered dramatherapists and theatre artists.
How EncounterTT Made The Film
To make the film EncounterTT commissioned the artists who had captured audio and visual material on the day of the flashmob performance – film maker David Salas from Lone Wolf Club Films and audio artists John Wigzell and Josie Sutcliffe from Ears, Knows and Throat – to work closely with the Total Immersion group, a steering/advisory group of adults with learning disabilities at CEDA. Many service users at CEDA had been part of the original Flashmob performance troupe. David also worked alongside one person from the Exeter Phoenix Flashmob troupe as a collaborative lead artist to create the new film, Nathan Keenan.
All original Flashmob participants were invited to take part in the film, alongside respondents to a call-out to our networks for participants that self-identified as non-disabled, who would like to take part in the filmed conversations. The filming took place over the course of a day, following which Nathan and David worked together on all decisions, from choosing content, framing the film, and in particular, they negotiated how to create a gallery art piece that would be accessible for future viewers with learning disabilities.
The outcome is a film of which both David and Nathan are very proud. They did not shy away from difficult conversations around the facilitation of adults with learning difficulties taking part in conversations within a time pressured and structured artistic environment. We believe that the resulting film will help to promote the need for more creative self-advocacy opportunities and the importance of people with disabilities being seen and heard, and recognised as valuable, contributing community members.
Venue: Exeter Phoenix