This event has passed.
Jerron 'Blind Boy' Paxton
Category
Book Now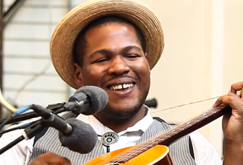 Jerron 'Blind Boy' Paxton
*Subject to a £1 ticketing system charge. We don't charge this to make a profit. Find out more >>
Jerron 'Blind Boy' Paxton
Although still in his 20s, Jerron 'Blind Boy' Paxton has earned a reputation for transporting audiences back to the 1920s and making them wish they could stay there for good. Blind Boy Paxton may be one of the greatest multi-instrumentalists that you have not heard of. Yet. And time is getting short, fast.
Jerron Paxton is a two-time participant in the Keeping The Blues Alive Cruise and is the new Artistic Director of the Port Townsend Acoustic Blues Festival & Workshop at Centrum in Port Townsend, WA.
Paxton was featured on CNN's Great Big Story and appeared in the multi award-winning music documentary AMERICAN EPIC produced by Robert Redford, Jack White & T-Bone Burnett. In October and November 2018 Jerron 'Blind Boy' Paxton will be touring the U.S. with the musicians from this groundbreaking AMERICAN EPIC SESSIONS music documentary.
This young musician sings and plays banjo, guitar, piano, fiddle, harmonica, Cajun accordion, and the bones (percussion). Paxton has an eerie ability to transform traditional jazz, blues, folk, and country into the here and now, and make it real. In addition, he mesmerises audiences with his humour and storytelling. He's a world-class talent and a uniquely colourful character that has been on the cover of Living Blues Magazine and the Village Voice, and has been interviewed on FOX News. Paxton's sound is influenced by the likes of Fats Waller and "Blind" Lemon Jefferson. According to Will Friedwald in the Wall Street Journal, Paxton is "virtually the only music-maker of his generation—playing guitar, banjo, piano and violin, among other implements—to fully assimilate the blues idiom of the 1920s and '30s."



Venue: Exeter Phoenix