Empire Strikes Back: Why Imperialism Matters
Agile Rabbit
Category
Book Now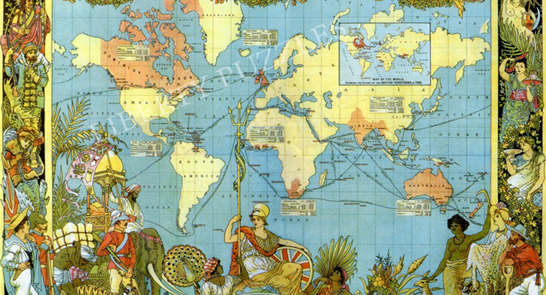 Empire Strikes Back: Why Imperialism Matters
*Subject to a £1.50 ticketing system charge. We don't charge this to make a profit. Find out more >>
---
This event has been rescheduled from 28 May 2020 and 24 Sep 2020. Original tickets remain valid.
---
AGILE RABBIT
Empire Strikes Back: Why Imperialism Matters
---
We live in a society where there is an unwillingness to see the unsavoury aspects of Britain's past. Instead, we are comforted by the nostalgia of imperial notions. A recent YouGov poll found that nearly half of Brits are proud of their colonial past, while 43% think the British Empire was a "good thing".
Britain's post-Brexit future was recently described in civil service documents as 'Empire 2.0', which was quickly met by ridicule by some journalists in Africa and India. But how does British history impact today's relationships with Commonwealth countries?
Join us to find out how have we reached this view of the past and the effect on the writing of history and our international reputation.
---
BIOGRAPHY: Dr Gajendra Singh
Senior Lecturer of History, University of Exeter
Gajendra's research is focused upon histories of colonialism in South Asia. He has particular interests in the hybridities of Empire. His work has explored the war testimonies of Indian soldiers during the two World Wars.
He recently published a monograph on wartime soldiering identities and testimonies in the Indian Army with Bloomsbury (The Testimonies of Indian Soldiers and Two World Wars: Between Self and Sepoy) and an edited volume by Routledge (An Imperial World at War: Aspects of the British Empire's War Experience, 1939-1945).
He has been involved in separate BBC 1, BBC Radio 4 and World Service productions exploring Indian revolutionary movements and Indian soldiers' experiences of France during World War 1.
---
AGILE RABBIT
Agile Rabbit is a platform that provides special events for the South-West and beyond to focus on ideas, global affairs and the natural and scientific world. The events are set in contrasting venues across the South-West to provide quirky experiences, whilst maximising participation for all communities.
Agile Rabbit is held in partnership with the Global Systems Institute at the University of Exeter.
---
VENUE: EXETER PHOENIX, STUDIO 74