Artist's Talk: Jacob van der Beugel
Category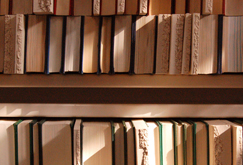 Artist's Talk: Jacob van der Beugel
*Please note that there is a £1.50 fee per transaction
The Last Wednesday Series
A series of artists' talks in association with Exeter College's Centre for Creative Industries. Limited places available to the public.
Jacob van der Beugel
Jacob van der Beugel's work varies in scale from large site-specific ceramic installations to smaller Still Life arrangements.
In more recent work, Jacob's preoccupation has lain with interpreting man's attempts to rationalise the abstract: such as sounds in music scores, human identity in DNA samples and even the turmoil of the FTSE 100 during the financial crisis of 2008. Jacob's output re-humanises these abstractions in an endeavour to depict the human condition. This has led to a highly original diversification of techniques and approaches, resulting in a very distinctive output.
The work is meticulously made by hand, embracing the notion that in order to extract meaning from one's art one needs to employ exceptional levels of effort. Clay has an extraordinary ability to capture human traces and endeavours in its conversion from the soft everyday and ordinary material to the hard and frozen sculpted object.
Jacob's work is collected internationally and held in numerous private collections.