How You Can Support Exeter Phoenix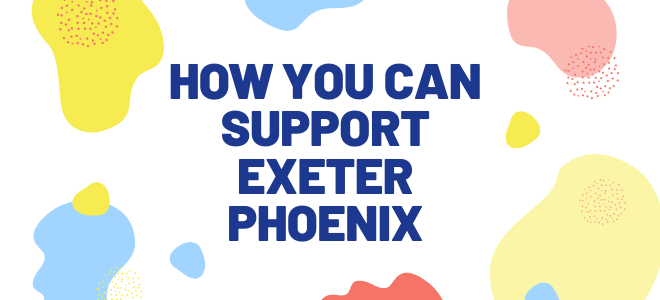 During lockdown at Exeter Phoenix, events were suspended, our Café Bar was closed and the building and its galleries were closed to the public.

Unprecedented closures like this will be hugely damaging for charities like Exeter Phoenix and many others in our sector. As an organisation we are reliant on our community to provide over 80% of the cost of running Exeter Phoenix each year. After seeing several members of our community reaching out to ask how they can help, we have provided a number of suggestions for how you can support Exeter Phoenix.
---
One of the most direct ways you can support us is with a donation. We have set up a Coronavirus Impact Fund to help us keep the arts scene thriving in Exeter once all of this is over. If you're able to spare the cost of one ticket, we would be hugely grateful. Thank you for every penny you can give. Find out more about Donating here >>
---
Perhaps you are not ready to return to events yet, but want to show your support for further down the line? If you'd like to support us and receive an excellent cultural experience in return, please consider purchasing a gift voucher for yourself or as a gift for someone else.
Exeter Phoenix gift vouchers can be redeemed for anything in our programme, whether it's a day exploring your creative side at a sculpting workshop, a training session with our filmmaking team, a great night out at one of the hundreds of gigs and live performance events we programme every year, or a movie night at our independent, solar-powered cinema. Find out more about Gift Vouchers here >>
---
Spotted a film or event we're hosting in the coming months that has caught your eye? Booking for that gig or performance ahead of time could make all the difference in keeping our diverse programme of events viable. Have a browse of our programme to discover what's coming up, including a whole host of activity that has been rearranged to next year. See our full programme of events here >>
---
Want to be a super supporter? Become part of our future (and our furniture) by adopting a seat in our auditorium! You'll receive a plaque on the back of your chosen seat with a custom message, a certificate and photo of your adopted seat and a bespoke enamel badge. You can Adopt a Seat by making a one-off donation or by paying monthly.
By Adopting a Seat at Exeter Phoenix you'll be helping to bring exceptional theatre, music, comedy and dance to your city. Thank you for helping to keep the arts thriving in Exeter. Find out how you can adopt a seat here >>
---
If you aren't ready to venture out yet, we understand. We will be here for you when the time is right for you. In the meantime, please keep engaging with us as we continue to work on unique ways to share culture and creativity with you online. Help us spread the word about what we are doing both now and in the future. Your support really does mean the world to us.
---
WHAT OUR COMMUNITY SAYS ABOUT EXETER PHOENIX
---
What's great about Exeter Phoenix? The sheer crazy volume of eclectic stuff going on that really is open to anyone […] If you're willing to engage, there a moments of real brilliance right here as magical and as inspiring as you will find anywhere.'


David Salas, Filmmaker
---
'Exeter Phoenix is outstanding at providing direct and uncomplicated support for artists on many levels. As an artist I value Exeter Phoenix for the incredible expertise amongst their staff and their deep commitment to making things happen both on a high end and a grass roots level. This would not be possible without their core strength – an unmatched understanding and knowledge of the local arts scene.'


Volkhardt Müller, Artist
---
The venue was beautiful, all the staff were great, and we were very well looked after. A pleasure from start to finish.'


Artist Manager for Mary Epworth
---
'Exeter Phoenix is quite simply one of my favourite places in Exeter, whether for music, stand-up, theatre, a film or just to enjoy a coffee with a friend. Supporting this special place was a no-brainer for me – I want the Phoenix to thrive and continue to be everything it already is and more.'


Anna Ingram, Adopter