Past Visual Art Commissions
Artists Moving Image Commission 2018
 LIAM JOLLY: AMEN BROTHER (DUM DUM KA-H)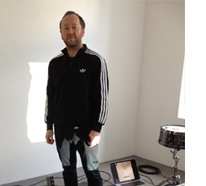 Based in Redruth, Cornwall, Liam Jolly is an artist working across installation, video, performance, painting and public intervention Whilst exploring the shifts in meaning that can take place between a fiction and reality, his works tread a fine line between these opposing concepts, employing double take and changing points of view as a mechanism to challenge our assumptions of what we are being presented with. In playfully questioning the material, mechanics and structures of when something is considered an art work and when it is not, he is making us question our perception of reality in unexpected or subversive ways. For this commission, he will be making a film that attempts to remix, into a visual score, the 'Amen Break', arguably the most sampled drum break in musical history and the corner stone of music sub genres such as Hip Hop, Drum & Bass & Jungle.
Thumbnail image credit (Previous page): Helen Snell, Digital Art Commission 2012
---
Artists Moving Image Commission 2017
Isobel Adderley: W E F E W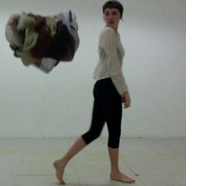 Artist Isobel Adderley is fascinated by our preconception of the body and physical space as separate and opposing forces. Isobel attempts to blur or trouble these preconceptions in her work and uses film, sculpture, live performance and music production to do so. W E F E W presents taught skin over twisted bones, quarried land, faceless, hybrid bodies. The absence of substance.
---
Street LAB: Live Art Busking Commissions 2017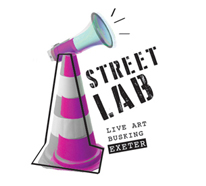 For Street LAB, Exeter Phoenix and Blind Ditch commissioned two new works that bring audiences into lively encounters with contemporary live art practice on the streets of the city. This micro-festival of live art busking formed part of Art Week Exeter (13-21 May 2017).The two selected commissions were titled A Five Year Old Could Do That and Get It Off Your Chest.
A Five Year Old Could Do That
Criticisms such as 'a five year old could do that' or 'it's not art' are often levelled at contemporary art, and especially at performance artists. Almost anyone - including animals, like chimps and elephants- can make and share deliberate images, sounds and movements, but could a five year old actually make contemporary art? What defines the difference between art and non-art, especially for general and unspecialised audiences? And conversely, are the proverbially easy things that five year olds do really so easy? Alistair Gentry will find out by taking a toy piano to the streets and publicly learning music from scratch using a system designed for kindergarten children. This live art busking pitch is equally influenced by John Cage's works for toy or prepared pianos, and by the most basic comedy tactic of a grown man playing a very small piano very badly.
Get It Off Your Chest
Musical performance duo Asthma experiment with noise making as a way to realise political frustrations. They've been gathering a sound bin of discarded, accidental and overlooked stuff and sounds from Exeter's streets…  join them for a live, improvised collaboration between voices and sound scrap for a musical dance jam of a performance and let out a collective scream.  Find out more about Street Lab here >>
2016 Artists Moving Image Commission Ben Tupper: A Mythology in Self Defence
Bristol based artist Ben Tupper was selected from almost 60 applicants from all over the South West to receive the 2016 Artists Moving Image commission, and his project A Mythology in Self Defence will be screened this autumn at Studio 74. The artwork will draw upon a combination of European film references, newly shot handheld footage and unused visual and sonic 'offcuts' from Tupper's previous films to explore ways in which moving image is encountered and how its surrounding political landscape affects what is presented. The film's script will mainly be drawn from a conversation between the French filmmaker Jean-Luc Godard and camera inventor Jean-Pierre Beauviala as they discuss and argue over a, never fully completed, handheld camera commissioned by Godard. It will also contain visual references to Pere Portabella's Cuadecuc, Vampir (1972); a high contrast black & white film shot behind the scenes of Jesus Franco's famous film adaption Count Dracula.
Partnership Commission: MOCC Artists Commission
Louise Ashcroft – Remaking The Internet In Paper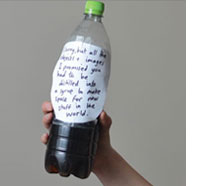 MoCC invited proposals for dynamic public encounters that explore urgent questions related to the nexus of data-trade-place-values. The selected commission is Louise Ashcroft's project Remaking The Internet In Paper. You can find out more about the project here >>
Artists Moving Image 2015 Ben Owen: Goldfinch
This year's selected artists is Bristol based artist Benjamin Owen. His project, Goldfinch, premiered at Exeter Phoenix on Wed 2 Dec 2015 where he will transformed the building with a combination of film, installation and live music. Find out more here >>
Ryan Curtis: Procession 2014
Procession was a new moving image artwork by Plymouth based artist Ryan Curtis that made reference to monumental architecture and religious ceremony. Curtis explored how our perception of a physical object can be augmented through its passage through space, combining video and sculptural elements within the gallery space.
---
Digital Art Commission 2013 Maia Conran: Crowd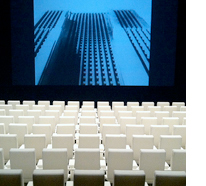 In 2013 Exeter Phoenix partnered with the University of Exeter to offer access to their 3D printing facilities at the Centre for Additive Layer Technology. We commissioned South West based artist Maia Conran to explore this technology in relation to her existing practice and to create and exhibit a new piece of art as a result. Interested in the inherent relationship between stillness and movement within moving image, Maia explored the possibilities to bring together digital animation and 3D printing software and created a video and sculptural installation called 'Crowd'. In Crowd, the artist appropriated and reworked iconic scenes from King Vidor's classic 1928 film The Crowd. The film's ground breaking, physically produced moving camera shots, contrast with the artist's contemporary digital rendering. Uncanny computerised movement of empty cinema seats replaces the presence of both actors and audience, highlighting the relationship between the viewer and the viewed. These digitally animated seats are also drawn out into physical space through the use of 3D printing, extending the installation beyond the projected image and playing with notions of the viewer and the viewed. maiaconran.com
---
2012 David Blandy: Anjin 1600: Episode 4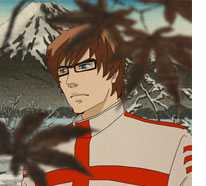 The first instalment of Blandy's episodic animation project Anjin 1600, which draws reference from the life of William Adams – the first Englishman to reach Japan and the only westerner to be granted the title of Samurai and 1980's Franco-Japanese TV cartoon Ulysses 31 (itself inspired by Homer's Odyssey). Commissioned in partnership with Animate Projects and Animated Exeter festival as part of the artist's solo exhibition Passage of the Soul that brought together several recent works exploring identity, fantasy and reality, as enacted by a cast of alter-egos stemming from the artist's passions for kung fu, soul, hip hop and Japanese manga. davidblandy.co.uk/
---
2011 Marcel Dinahet: Sky/Canal/River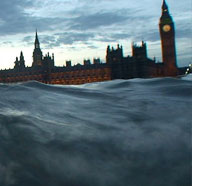 Marcel Dinahet's work is concerned with the littoral - marginal areas where water and land meet. Over the last 30 years he has worked internationally, making films around, and often within, seas, ports, rivers and sources, documenting both the places and the people who live and work in these boundary zones. In 2011 he produced a new body of work made in and around the river Exe and its parallel shipping canal as they pass through Exeter and open into the estuary before meeting the sea. marceldinahet.co.uk
---
2011 Edwina Ashton: In a rose columned forest...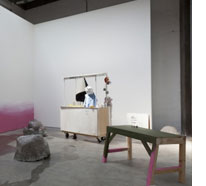 Edwina Ashton's 2011 solo exhibition, Out With the Hammers, centred on a new animated film In a Rose Columned Forest (2011) and accompanying body of works, which were inspired by the 19th Century naturalist Phillip Henry Gosse, and his meticulous study of marine life in Devon's rock pools. Ashton responds to Gosse's beautiful illustrations and observations of natural history, and to his son Edmund's celebrated and semi-fictional account 'Father and Son' which details both their shared delight in the study of rock pools and the religious strictures which dominated their lives. Commissioned in partnership with Animate Projects and Animated Exeter festival. worksprojects.co.uk/artists/edwina-ashton/
---